College Park Center Named "Best of Big D" by D Magazine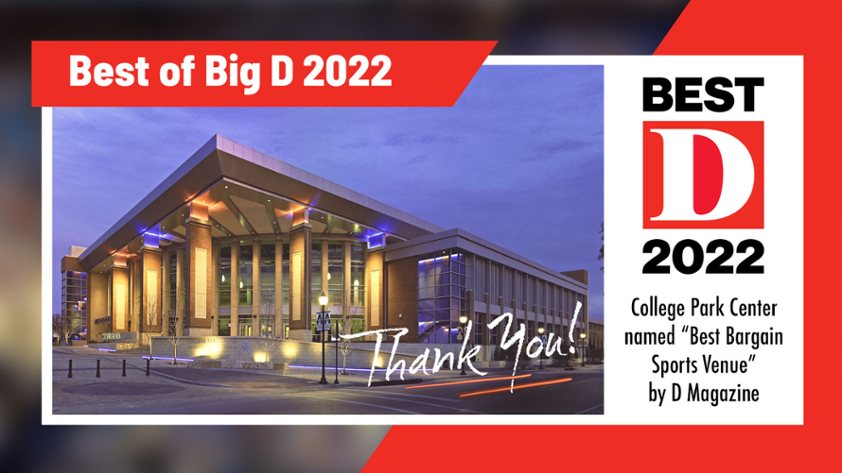 We're excited to announce that College Park Center (CPC) has been named "Best Bargain Sports Venue" in D Magazine's 2022 Best of Big D awards. The award highlights the affordability of CPC's offerings, from game tickets to concessions and even parking, all which enhance the venue's world-class sports and entertainment.
"It's a great honor to be recognized, especially in a place like DFW with so many amazing venues and options for entertainment," said Jonathan Carroll, assistant director of marketing for College Park Center. 
The 7,000 seat multi-purpose arena has been the home court for The University of Texas at Arlington's (UTA) Men's and Women's Basketball and Women's Volleyball programs since its opening in 2012. CPC became the home of the Dallas Wings of the WNBA in 2016. 
"We love working with our partners, the Dallas Wings and UTA Athletics, to bring affordable, quality entertainment to our community," said Jeff Davis, executive director of College Park Center. "Across CPC's calendar of events, whether it's a basketball game or a concert, boxing match or graduation ceremony, the arena strives to be the kind of place where friends and family can come to have a memorable experience without breaking the bank."
The Best of Big D awards have been published annually since 2001 and feature editor and reader picks for the best local businesses, restaurants, shops, and entertainment venues in DFW. You can read more at www.dmagazine.com, and take their advice and make it out to a Wings game – "…you have no excuse not to watch Arike and Marina play"!
View upcoming events at College Park Center, as well as Texas Hall and other venues on the UTA campus at www.utatickets.com.
Interested in booking College Park Center for your next event? CLICK HERE.